Daimler DS420 Limousine – "Daisy"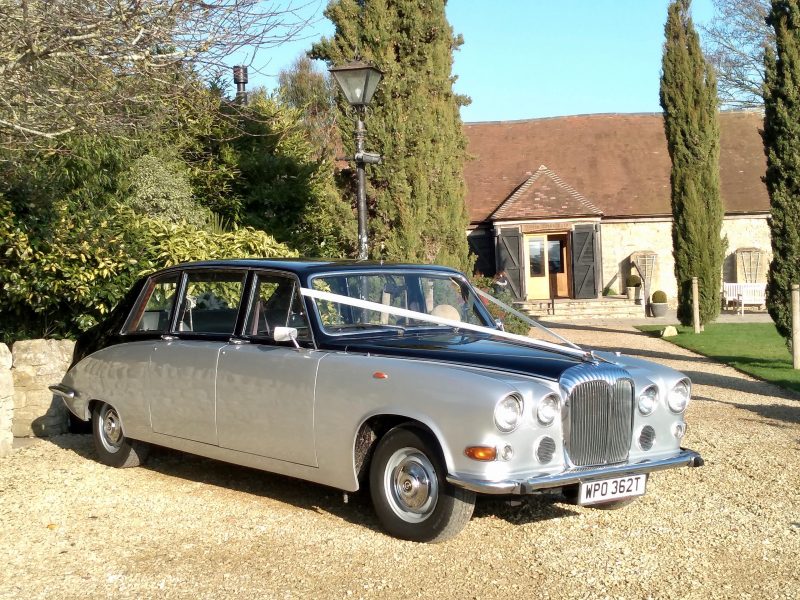 "Daisy", our very regal Black over Silver Daimler DS420 Limousine is one of the latest addition to our fleet. This is the perfect car for couples looking for something different to the traditional white wedding car.
The vast interior, with pale grey leather and polished burr walnut fittings provides ample space for the largest of wedding gowns. The wide opening doors make entry and exit easy and graceful.
The car is also fitted with 2 extra pull out occasional seats, allowing up to 6 passengers to travel in the rear of the car, and 1 in the front with the chauffeur.
With the option to seat up to 7 passengers the car is the perfect choice for the bridesmaids or as a car for the grooms party to travel to the ceremony in style.
The Daimler DS420 Limousines were built between 1968 – 1992 and many were used by heads of state and royalty. Daimler DS420 Limousines have been used for all of the recent Royal Weddings and state occasions.
"Daisy" is beautifully finished in Masons Black over Metallic Silver and has spent much of her time transporting diplomats and VIPS.
Daisy is a stunning car just on her own, but if you need 2 or more cars then Tess our Silver Princess Limousine or one of the white Daimler Limousines Gigi or Delilah will make a great complementing car.
Why not make an appointment to come and see all of our wedding cars at our showroom in Westcott, Nr Aylesbury.
Daimler DS420 Limousine. Our vintage, classic & modern luxury wedding cars are available for weddings in Buckinghamshire, Bedfordshire, Berkshire, Cotswolds, Hertfordshire, Northamptonshire and Oxfordshire.